Happy New Year! 2022 is here and 2021 left us a great present with STEAMonEdu on a very special virtual exhibition… STEAMonEdu was presented by the Regional Directorate of Education of Western Greece Scientific Team to various stakeholders during the Patras Innovation Quest 2021 Virtual Exhibition on 4-6 December 2021 through a virtual booth.
That was the 7th Patras Innovation Quest (Patras IQ) 2021 version of the Exhibition, for the promotion of Innovation on a national and European scale and the aim to highlight mature and innovative research ideas for their further development for the benefit of society and the economy and returns dynamically. It is co-organized by the Greek Ministry of Development and Investments, the Greek Ministry of Education, the University of Patras, the Achaia Chamber of Commerce, the Region of Western Greece and the Hellenic Open University.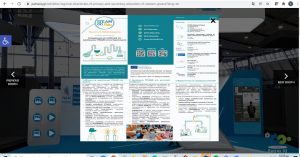 During Patras IQ 2021 participants could have access to the Auditorium and watch Numerous important Live Events, of special and general interest, addressed to professionals and the general public, visit Virtual Halls with Subjects such as Science – Research, Support Agencies & Businesses, visit the virtual expo and discuss in each booth live with representatives of each exhibitor (online) in which new & mature companies, research projects & mature research ideas, research laboratories, institutes and their support bodies are presented and benefit by the networking opportunities to collaborate with researchers, companies, start-ups, academia & research community and policy centers.
During the virtual exhibition, Regional Directorate of Education of Western Greece team interacted with numerous national and European researchers, with government representatives, with teachers of primary and secondary education,  School Education, VET  and Higher Education students and with the general public and received very positive feedback on the results of STEAMonEdu as well as the rest of its EU educational-research projects.
Dr Giannopoulos Konstantinos, the Regional Director of RDEWG who is also one of the head members of the Organizing Committee of Patras Innovation Quest underlined the importance of collaboration among all levels of education and the real world for the promotion of Technology, Innovation, Cooperation, Research, Education, Entrepreneurship and Growth. Moreover, he expressed his complete satisfaction for the extra effort and accomplishments of the RDEWG team involved in its EU Projects being a Greek Public Regional School Education Organization and the developed results including the prototype and innovative results of STEAMonEdu on a global basis. Finally, he expressed his deep appreciation and gratitude to the EU members of the STEAMonEdu partnership for the extraordinary cooperation as well as its entire EU partnering organizations of the projects CHOICE, GEM-IN and DANsCE for All.
By RDEWG