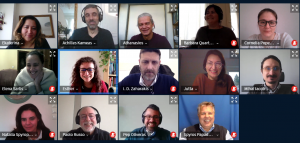 "So close, no matter how far
Couldn't be much more from the heart
Forever trusting who we are
And nothing else matters…
… Trust I seek and I find in you
Every day for us something new
Open mind for a different view
And nothing else matters"
Nope, Metallica had no connection to the 3rd STEAMonEdu transnational meeting, apart from the positive vibes and the eagerness of all participating partners to keep on working towards open minds and improvement of STE(A)M education!
It was just another productive STEAMonEdu partners meeting, which took place on 20-21 January 2021, hosted virtually by our Spanish partner Colectic. Barcelona was originally the meeting point, however the third project meeting had to be held online due to the COVID-19 pandemic, like the previous one.
Colectic was an excellent virtual host, setting up an advanced system (and a new tool for partners to discover!) that facilitated the progress of the work which had to be done by all members with increased interaction. Colectic also provided all participants with a digital cultural taste of beautiful Barcelona and shared lively energising Catalan music during breaks in order to make the meeting as pleasant as possible.
As a result, a very productive and energetic meeting was delivered with the active involvement of all partners under the guidance of the project coordinator CTI.
During the first day of the meeting, the two major deliverables of the project, the STE(A)M education framework and the STE(A)M educator competence framework were thoroughly discussed and the next  steps of the process were agreed. Extra attention was paid to the current phase of creating the STE(A)M educator profile. This is a very important aspect of the project, thoroughly researched by all contributing partners in order to finally produce a quality product to look forward into STE(A)M Education in a European education policy context.
An interactive and productive part of the first day was the workshop on the development of the training content for a MOOC, which will be produced with the purpose of the professional development of STE(A)M Educators.
On the second day, the project partners gave great emphasis on the different evaluation processes and quality assurance of the project and also planned all upcoming dissemination and exploitation activities. One of these events will be another international STEAMonEdu workshop that will take place on 26 March, as part of the ALL DIGITAL Week campaign.
Finally, the date has been set for the next project meeting, which will hopefully take place in summer in Berlin.
By RDEWG