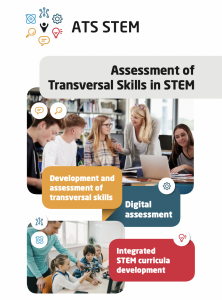 Assessment of Transversal Skills in STEM is an innovative policy experimentation project conducted across 8 EU countries and involving 12 educational institutions. It aims to enhance digital assessment of students' transversal skills in STEM. Drawing on key ideas and theories of STEM educational policy, formative assessment, use of digital learning tools, and integrated STEM education the project developed an overarching conceptual framework that underpinned a training and development programme for teachers. Teachers in 107 schools in seven European countries worked with teacher mentors to help teachers reflect on and develop their teaching practices to teach students key STEM skills via learning projects aiming to have a real-work impact and address the UN's sustainable development goals.
EDEN, European Distance E-learning Network, has organised the webinar 'Assessment of STEM transversal skills from conceptual framework to real- world problems' on Wednesday, 1 December 2021, at 17:00 CET.
The session will consist of presentations followed by a discussion
This presentation will feature tales spun from theoretical frameworks to classroom practices. Dr. Eamon Costello will first give an overview of the project and discuss the topic of real-world skills, a concept of contestation in the STEM educational discourse. Following the overview, Dr Eva Hartell will present the project implementation in Sweden where the research team worked in partnership with schools and parents on projects that allowed students to explore and affect their real world. Lastly, teacher Alberto Sacido will share an inspirational story of the ATS STEM pilot implementation undertaken in Rosalía de Castro High School, Spain, with his enterprising students in a project about Covid-19.
Register to take part in the webinar.
By AD