The ErasmusDays Celebration was launched back in 2017 for the 30th anniversary of the programme. It has become in
three editions an unmissable European celebration for citizens and stakeholders of European projects.
In 2019, more than 53 countries participated in this astonishing international fest with more than 3,995 events! International players from school education, higher education, adult education, vocational training, youth and sport held different type of events around the world to to celebrate locally the tangible benefits of Europe.  The success of the #ErasmusDays has demonstrated the need to communicate European values, mobility's benefits and Erasmus+ projects results at a large scale in order to be visible by citizens, professionals, media and policy makers.
ErasmusDays 2020 will be celebrated on the 15, 16 & 17 October 2020. Numerous exhibitions, concerts, contests, seminars, partner networking, open days, distribution of Europass Mobility documents, digital events are organized worldwide at the moment.
In Greece, this year a fascinating mixed digital and on-site event will be organized by Regional Directorate of Education of Western Greece on 15 October 2020  with multiple Greek Erasmus+ beneficiaries communicating their projects results, and of course….. STEAMonEdu will be there to stand out for the Competences of STE(A)M Educators in the Educational World!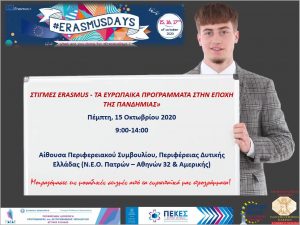 By RDEWG