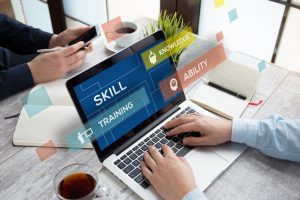 Our Romanian partner EOS – Educating for an Open Society Foundation, in early May 2020 launched the Cloud Career Accelerator project in partnership with Microsoft Romania, through Microsoft's global philanthropic program.
In order to meet the challenges of the labour market, young jobseekers need to learn new skills, both in the area of technical skills (learning new technologies and programming languages), as well as in the area of soft skills (critical thinking, analysis or ethics).
Thus, EOS Foundation runs the Cloud Career Accelerator – a free pilot programme for accelerated learning and certification with up-to-date resources in the fields of cloud technologies, artificial intelligence and integrated digital services: Microsoft Azure, Microsoft 365, Microsoft Dynamics or Microsoft Power Platform.
In 2020, the Cloud Career Accelerator will offer specialized AI and cloud technology courses to approximately 500 young people who do not have access to such courses or opportunities for certification of acquired skills. In the context of the current situation generated by COVID-19, all training courses and their associated resources will be made available to the beneficiaries in a dedicated space, so that the participants have a pleasant user experience. In the first stage of the project, EOS Foundation will select five partner universities interested in developing specialized courses in Azure and artificial intelligence for students.
In full swing of the digital economy, the most popular jobs did not even exist 10 or even 5 years ago. Many experts argue that Artificial Intelligence (AI) and cloud technologies are some of the most important topics when discussing careers in the IT sector. As technology continues to advance at an ever-accelerating pace, a lot of new jobs have been created. New jobs in IT include stand-alone machine programmers, cloud computing specialists, big data experts and artificial intelligence.
The Cloud Career Accelerator project has already been accepted by the European Commission as an important contribution to achieving the goals of the Digital Skills and Jobs Coalition strategy.