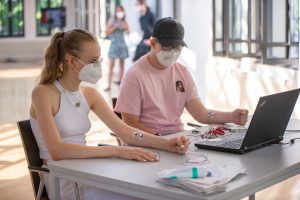 How we obtain information, shop, learn, communicate with each other, seek medical advice, or use public administration services – digitization is profoundly changing our everyday and professional lives. Everyone must be enabled to move confidently and securely, self-assuredly and self-determinedly in the digital world.
To this end, Germany's digital association BITKOM established the annual Digitaltag, taking place on June 18th 2021.
The Digitaltag is a nationwide day of action designed to promote digital participation in society. On Digitaltag, various activities take place in Germany, such as seminars, workshops, open days and discussions on topics related to digitization. This is intended to discuss different aspects of digitization and make digital technologies understandable, tangible, and accessible to as many people in Germany as possible. Individuals, associations, companies, and public institutions can register actions and participate. Digitaltag was launched in 2019 by the "Digital for All" initiative and held for the first time on June 19, 2020, with over 1,400 actions registered. On the occasion of the Digitaltag, the initiative awards the prize for digital togetherness.
According to its own statements, the aim of the "Digital for All" initiative is to promote digital participation for all people and to accompany digitization trends with a cross-society dialogue. The initiative wants to ensure that all people find their way with digital technologies and in the digital space and are taken along with the developments. Therefore, on Digitaltag, people should be able to get in touch with digital solutions locally. In February 2021, the initiative published common guidelines for the promotion of digital participation. Accordingly, the initiative appeals for more participation of all social groups and more promotion of digital competencies and digital engagement.
To mark Digitaltag, the initiative is publishing a commissioned study on the topic of digital participation. The representative survey will map the attitudes toward digitization as well as the skills and use of digital technologies of more than 1,000 people over the age of 16.
Our project partner Helliwood media & education participated in the Digitaltag with digital and hybrid STE(A)M activities for teachers and students. Among other things, the event Einstein macht Schule located in Berlin was a great success. Here, renowned and young STEM scientists gave an insight into their fields of research to more than 300 students from secondary schools: Neurotechnology, textile design, space research and much more.
By Helliwood
Photo: @Helliwood, Christiane Herold