STE(A)M education is included within most of the recent policies released by the European Commission.
The Digital Education Action Plan clearly set as strategic priorities to "foster a high-performing digital education ecosystem we need digitally-competent and confident educators and education and training staff" where STEM disciplines are included, "to enhance digital skills and competences for the digital age: supporting the provision of basic digital skills and competences from an early age" AND "promote advanced digital skills development; Digital Opportunity traineeships and encourage" a more consistent participation of women in STEM education practices and so foster gender equality.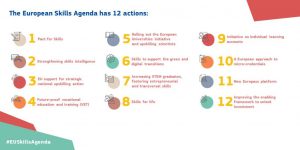 Whereas, with the support the EU STEM Coalition the Commission will contribute to helping to promote the development of new higher education curricula for engineering and ICT based on the STEAM approach. This objective works nicely in combination with the European Skills Agenda that has included STEM as one of the 12 actions identified to carry on. It is quite evident that these actions have the aims of contributing to develop Skills for jobs in a green and digital economy, which brings us in considering STEM within the contemporary context we're living in. Modern societies have started being focused on sustainability aspects, putting under the light the climate change challenge. In other words, the green transition requires citizens with green and entrepreneurship skills to be developed in combination with core skills and, of course the transversal, or soft, skills. 
This is also in line with the Digital Compass is the vision of the European digital transformation by 2030, that has been presented on 9th March of this year. The Digital Compass identifies the four cardinal points in: Skills, Infrastructures, Business and Government focusing on gender convergence, educating at least the 80% of the population to the Basic Digital Skills, providing a climate neutral technological infrastructure everywhere engaging companies within this process and facilitating the switch of the public services for citizens into digital tools and platforms.
Policies address STE(A)M education from the competence perspective in stimulating Union Member States to include within their curricula STE(A)M subjects and approaches for educating European citizens for a more STE(A)M integrated mindset.
By ALL DIGITAL