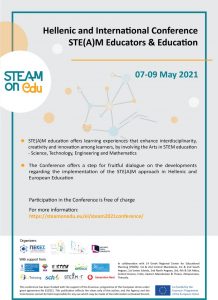 The Panhellenic and International Congress "STEAM Educators & Education" will be held only online on Friday, 2021, May the 7th to Sunday, 2021, May the 9th. Sessions hours: 09:00-19:30.
The congress is held under the auspices of the Greek Ministry of Education and Religion (Υ.ΠΑΙ.Θ.) (Protocol Number: 37527/ΓΔ4/2-4-2021) and is co-organised by the Regional Centre for Educational Planning of Western Greece (PE.K.ES. D.E.), the Institute of Technology of Computers and Editions "Diophantus", (C.T.I.) and the Greek Open University (H.O.U.) and it is supported by the Regional Directorate of Education (PDE) of Western Greece, the International Community of Educationalists Scientix, the works "STEAM-IT", "CHOICE",  & "GEMIN", (that are financed by the European Program Erasmus+/  KA3/ ForwardLooking Cooperation Projects in the fields of Education and Training), The Greek Educational Union S.T.E.M. (E3STEM), the National Support Service of the eTwinning action, the Panhellenic School Network, as well as 14 more Centers for Educational Planning, all over Greece (1st of Central Macedonia, 1st of Ionian Islands, 1st of South Aegean, 2nd of North Aegean, 2nd of Central Macedonia, 2nd of South Aegean, 3rd of Attica, 4th of Attica, 5th of Attica, of Eastern Macedonia & Thrace, of Thessaly, Peloponnesus and of Central Greece).
The initial form of the programme is attached, the details of the invited speakers, of the presentations, the educational practices and the special sessions (laboratories, educational sessions, round tables and symposia).
Seven (7) parallel sessions will be presented in fifteen (15) zones, 11 invited speeches, 52 presentations, 50 educational practices and 28 special sessions.
It is addressed to scientists, educationalists and educators of all levels that occupy themselves or are interested in getting occupied with the STE(A)M education, researchers and post-graduate students, education executives, professional education and vocational training providers, as well as any person interested in getting aware on the most up-to-date scientific evolutions, the experiences and the results of the application of the educational approach STE(A)M.
The attendance is free, but a pre-registration is requested, with the completion of the application participation form here .
Only the ones that have submitted a pre-registration and declare their attendance, with the same e-mail of their pre-registration, that will be announced during the progression of the works of the Congress, they will receive an attendance certificate.
Communication with the Congress: steam2021conference@gmail.com
More information:
The Co-ordinators of the Organisational & Scientific Committee of the Congress:
Dr. Spyridon Papadakis, Org. Coordinator of the Regional Directorate of Education, Coordinator of Education of Informatics
Dr. Achilleas Kameas, Professor of the Faculty of Positive Sciences of H.O.U., Computer & Informatics Engineer