The Regional Center for Educational Planning of Western Greece (PE.K.ES. D.E.), Computer Technology Institute and Press "Diofantus" (C.T.I.) and Hellenic Open University (HOU) – DAISSy Research Group co-organize the Panhellenic and International Conference "STE(A)M educators and education".
The conference aspires to be a step for academic dialogue for the members of the scientific and educational community in Greece and Europe, as well as other stakeholders, on contemporary scientific approaches and policies in the field of STE(A)M education. Presentations of experts and distinguished scientists from Greece and abroad will provoke a fruitful dialogue on the developments of the implementation of the STE(A)M educational approach in Greek and European Education. STE(A)M education proposes the introduction of Art in STEM education and of all disciplines in STEM education as well – Science, Technology, Engineering and Mathematics – and includes learning experiences that boost interdisciplinarity, creativity and innovation among learners, through an attractive way of teaching and training, with application to real life problems.
The Conference is coordinated by Dr. Achilles Kameas, Professor of HOU, and Dr. Spyridon Papadakis, Organizational Coordinator of PEKES Western Greece.
The conference is addressed to scientists, teachers and educators of all levels engaged or interested in applying STE(A)M education, researchers and postgraduate students, education executives, providers of vocational education and training but also to any individual interested in being informed about the latest scientific developments, experiences and the results of the implementation of the STE(A)M educational approach.
The conference will take place online from Friday 7 May until Sunday 9 May 2021.
Everybody who wishes to attend the Conference, needs to register by filling out the Registration form. There is no participation fee. Participants are going to receive a certificate of attendance.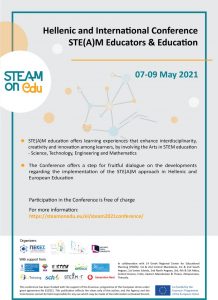 For more information about the programme and the structure of the conference, visit the website of the conference: https://steamonedu.eu/steam2021conference/
The conference is supported by the project "STEAMonEdu: Competence development of STE(A)M educators through online tools and communities".
 The conference is also supported by
the international teacher community Scientix
the projects "STEAM-IT", "CHOICE", and "GEMIN", which are funded by the European Programme Erasmus+ / KA3 / Forward Looking Cooperation Projects in the fields of Education and Training
14 Greek Regional Centers for Educational Planning (PEKES): 1st & 2nd Central Macedonia, 1st & 2nd South Aegean, 1st Ionian Islands, 2nd North Aegean, 3rd, 4th & 5th Attica, Central Greece, Crete, Eastern Macedonian & Thrace, Peloponnese and Thessaly