STEAMonEdu project was presented on 26th of October 2021 by our Romanian project partner – Fundatia EOS Romania, within the event "Cultural Mediation Forum". Cultural Mediation Forum is a Romanian event organized each year by Clujean Cultural Center, which this year took place online during 25-28 October 2021.
This year's edition of the Cultural Mediation Forum proposed an exploration of the encounter between arts and sciences in practice and in the theory of their communication, of cohabitation in the approaches of educators, artists and managers.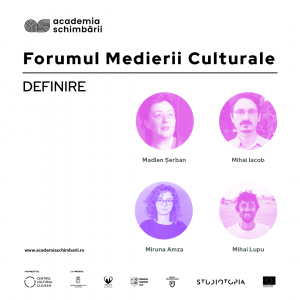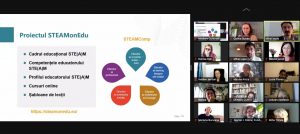 In a rapidly changing world, whose direction and meaning are sometimes difficult for us to see, art and science offer ways to access reality in complementary, socially and beneficial ways for our personal development – emotional and cognitive.
This year's program of the Forum encourages the exchange of ideas and experiences on how we understand the integrated approach to arts and science in school and curatorial practices, on how public funding policies encourage certain mediation practices, about the forms that the collaboration between art and science can take in educational programs and about how we prepare to achieve quality cultural and scientific mediation.
The session dedicated to the STE(A)M field addressed topics such as the theoretical and policy history of STE(A)M in Europe and how it is put into practice in Romanian schools. There were also discussions on how the work of organizations with an educational mission and educators influences this field of activity.
Madlen Șerban – Secretary General of the National Commission of Romania for UNESCO and associate professor at the Faculty of Psychology and Educational Sciences within the University of Bucharest were one of the special guests of this working session.
More details about the event can be consulted here.
By EOS