On the 14th of October 2021, within the 14th ALL DIGITAL Summit, a unique platform for the European digital inclusion sector, took place the STEAMonEdu project final conference, gathering more than 400 registered participants. EU policy makers, ALL DIGITAL members, EU stakeholders and private companies, academics, educators, and young people, meet online to benefit from the results of the STEAMonEdu project by attending the STEAMonEdu – Increasing the adoption and impact of STE(A)M education by the professional development of STE(A)M educators conference. The event focuses on three main aspects related to the field of STE(A)M education: the results from STEAMonEdu project; the current innovations within STE(A)M; and the future challenges of the field.

Participants to the event gain knowledge on the latest achievements, EU positions and action plans to support and facilitate an increase adoption of integrated STE(A)M within the educational system. They learn more about the activities promoted by STEAMonEdu project, its aims and outcomes related to the community of stakeholders, the professional development of educators, and the tools and training developed.
Stakeholders and partners' projects promote the enhancement of STE(A)M education, activating the audience in exchanging ideas online and over the panel discussion.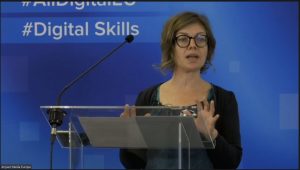 Integrated STE(A)M sounds like the next urgent goal within the field, where disciplines can be merged with a balance between them. STEM and STE(A)M is one of the priorities of the 2030 Digital Compass supported by a variety of initiatives announced as part of the European Skills Agenda, European Education Area and the Digital Education Action Plan with the aim of upskilling educators, facilitate women in accessing STEM careers and train professionals to solve real-world problems.
EU policy officer Anusca Ferrari, DG EAC, through her keynote speech, shed light on the EU objectives and initiatives: "We set STEM as a priority for cooperation projects in Higher Education in the Erasmus+ 2021 Work Programme."
Professor Anastasios Mikropoulos, University of Iannina, highlighted the need for and importance of combining STEM and STE(A)M education to stimulate citizens in being able to solve real problems, introducing the circular process needed to facilitate the integration.
Educators feel the need to tune into a STE(A)M mindset where integrate approaches, blend skills and knowledge into a more dynamic and flexible way of teaching and supporting learners in developing skills. During the panel discussion, it has been stressed the strategic understanding of the field to avoid educating only some generations. On the opposite, STE(A)M education should refer to all generations.
By ALL DIGITAL