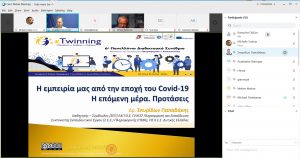 The Panhellenic eTwinning Conference has now become an institution in the consciousness of the educational community and approximately 30,000 eTwinners teachers and educators. The 6th Panhellenic eTwinning Conference was scheduled to be held in Thessaloniki in March 2020, but due to the special circumstances of Covid-19 it took place online on 3-5 July 2020. Teacher enrollments exceeded 1,600.
STEAMonEdu was presented in one of the round tables of the conference entitled 'Our experience from the Covid-19 era. The next day. Proposals ', coordinated by Nikos Tzimopoulos (member of EYY eTwinning) and with participants Panagiotis Anastasiadis (University of Crete), Charitonas Polatoglou (Aristotle University of Thessaloniki), Spyros Papadakis (Regional Directorate of Education of Western Greece RDEWG), Anastasios Barbas (IKY).
Dr Spiros Papadakis, member of our STEAMonEdu researchers and Head Researcher of the RDEWG's STEAMonEdu team shared with the participants the expected results of the project, the online platform and the multiple benefits of being a member of the STEAMonEdu European Community.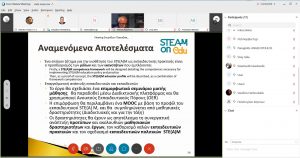 The Conference was honoured by the presence of the General Secretary of Primary Education, Secondary Education and Special Education Ms. Anastasia Gika of the Greek Ministry of Education who in her closing remarks stressed out the high quality and attractiveness of the 57 lectures and scientific presentations, the 13 workshops and the 2 round tables. Also Irene Pateraki, Pedagogical and Monitoring Manager of European SchoolNet, congratulated all presenters and participants for their enthusiasm and devotion in upscaling the educational procedure in Europe.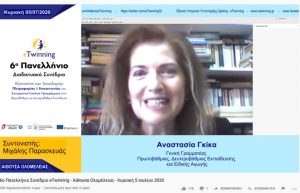 By RDEWG