STEAMonEdu Project was presented on 22 May 2020 at the scientific webinar entitled "Integrating Computational Thinking-Computing and the Epistemology of STEM through the model of Computational Pedagogy". It was a successful webinar and extraordinary in terms of participation –  it hosted 110 participants in the virtual room plus 340 participants on youtube livestreaming.
Dr. Achilleas Kameas and Dr. Spyridon Papadakis from DAISSy Research Group – CTI, coordinator of STEAMonEdu project, provided the participants with all the necessary information on the ways a teacher, an educator, or a researcher can get actively involved in the STEAMonEdu European Community. They also outlined the benefits and opportunities of being an active member of the STEAMonEdu online platform, which has been recently launched.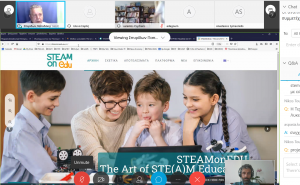 The Regional Educational Center of the Regional Directorate of Primary and Secondary Education of Western Greece, as an official public educational training provider of the Greek Educational System helped the participants – educators of different disciplines (humanitarian scientists as well as natural sciences and new technologies scientists) to familiarize with good practices in the field of Computational Thinking and STEM or even STE(A)M education. The discussion around STEM and STEAM oriented good practices shifted the focus to the need of supporting the STEAMonEdu European Community through the online STEAMonEdu platform for further interaction and dialogue.