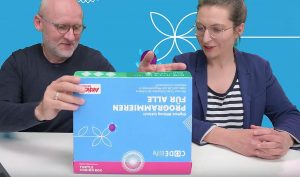 The Turtle Coding Box was released in June 2020 under the motto "Anyone can code". Educators and teachers from German speaking countries will have the opportunity to use the already piloted teaching materials to carry out activities with students. The inclusive approach has been tested since 2015 and creates the prerequisites for all children – regardless of any impairment or special ability – to learn programming together. With the teaching material, teachers and other education managers start a basic course in computer science education with learners of eight years and older and discover the basics of programming using the programming language LOGO and the programming environment TurtleCoder.
The Turtle Coding Box consists of:
the Turtle book as a manual with elaborated teaching units for programming
the digital Turtle-Book supplemented with additional media, videos and templates for download and digital whiteboard pictures in a whiteboard player for teaching purposes
an introduction to the didactic-methodological approach and differentiation possibilities for inclusive learning groups
the programming App TurtleCoder with various assistance systems
individual task cards for pupils for internally differentiated teaching
Working materials for analogue programming and a portfolio booklet for the documentation of the learners' work results
Participation in a webinar for teachers and educators on the Turtle Coding Box with practical exercises in programming, an introduction to didactics and the presentation of possible applications in hybrid teaching situations.
Already 250 copies have been ordered by teachers nationwide. The STEAMonEdu partner organisation Helliwood media & education im fjs e.V. has already held several webinars in cooperation with Aktion Mensch to introduce the Turtle Coding Box. You are welcome to register here.
By Helliwood