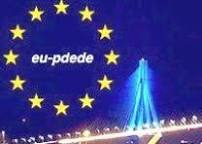 PDEDE (Regional Directorate of Primary and Secondary Education in Western Greece, PDEDE) is an education organization under the umbrella of the Greek Ministry of Ministry of Education and Religious Affairs. It is in charge of over 1135 schools of both levels of education -primary and secondary- (general education, special education, vocational education, adult education) and a number of more than 12,150 appointed teachers of all disciplines and 90,000 students.
It is one of the largest education organizations in Greece – responsible for schools and teachers in three Units, Achaia, Etoloakarnania and Ilia. The main strategic objective of the Regional Directorate of Primary and Secondary Education of Western Greece is the co-ordination and monitoring of the implementation of the Educational Policy in its three respective regional units (Achaia, Ilia, Etoloakarnania) and its active contribution in designing and shaping educational policy at the regional level. It is comprised by several organizational units including: 3 Directorates of Primary Education (one for each regional unit), 3 Directorates of Secondary Education (one for each regional unit), the Regional Center of Educational Planning of Western Greece and the 4 Centers of Educational and Guidance Support. (Law 4547/A΄ 102/12-6-2018 Government Gazette).
It is also responsible for providing information on European Projects, supporting all of its educational structures during the application stage, as well as the dissemination of the results supervising the implementation of various education projects, like European projects, in schools. Head of the Directorate is at the moment Dr. Kostas Giannopoulos. One of his primary goals is to reinforce the educational process in schools under his jurisdiction. The department monitors in a more organized basis the results of already existing European projects and provides assistance to schools wishing to participate to European projects.
Postal Address: Regional Directorate of Primary and Secondary Education in Western Greece – 25A Akti Dimaion, 26222, Patras, Greece
Website: http://pdede.sch.gr/
Contact: mail@pdede.sch.gr