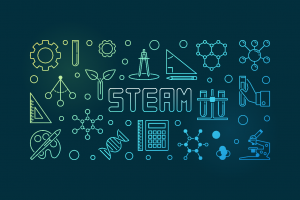 Occupations of the future have been changing rapidly and the knowledge and skills acquired today are not foreseen to be sufficient while preparing our students for life. According to the research, 65% of people will be employed in new fields of employment, which are not even known today. It is emphasized about these occupations that 21st century skills, such as digital skills, critical thinking, cooperation, team spirit, innovative and analytical thinking are required. Building capacities and developing innovative ways of connecting science to society is a priority under the Europe 2020 strategy. Failure to encourage sufficient numbers of students to sustain their interest in science – into and through technical, vocational, undergraduate and graduate/ doctoral studies – could undermine the success of this strategy.
Αs a result, the demand for professional and associate professional occupations in the fields of Science, Technology, Engineering and Mathematics (STEM) is expected to grow by 13% and 7% respectively in the period 2015-2025 in Europe, as opposed to a predicted 3% increase in employment for all occupations. At the same time, basic STEM competences are critical for succeeding in most of the technical, engineering and even managerial jobs, therefore STEM education is the main competence source for scientists, engineers, and workers with technological skills (Spyropoulou & Kameas, 2020).
Thus, STEM might be necessary for technological progress, but without the Αrts it is impossible for students to reach their full potential. The "A" in STEAM is a term that represents liberal arts, language arts, social studies, physical arts, fine arts, and music. STEAM education is about applying creative thinking to STEM projects, igniting students' imagination and creativity through the arts. It also exploring where art naturally fits into the STEM subjects ("STEM to STEAM: The 'Arts' and Its Importance in STEM Education | Makeblock," n.d.).
STEAM education makes holistic education possible while putting emphasis on learners' real life and experiences
STEAM education grew out of STEM education and consists of learning experiences that help students realize how to focus and learn by putting emphasis on logical, mathematical, experimental, and scientific thinking. At the same time, it increases students' learning motivation by arousing their curiosity about applying scientific and technical learning in real life situations (Bybee, 2013). But no transition to STEM or STEAM education will ever be possible without the active and full involvement of teachers. That is why, it widely acceptable that any STE(A)M education initiative must first invest on upgrading the competences of educators.
In this context, the STEAMonEdu project will design a complete framework to facilitate the adoption of STE(A)M education, consisting of models and tools that support both the teaching and learning sides. Initially, a crowdsourcing bottom-up approach will be put in place for the stakeholders of STE(A)M education (including educators, researchers, policy makers etc.), aiming at collecting relevant good practices and policies. These will be shared with the community of STE(A)M stakeholders via the online platform that is already under development; the platform will also provide for peer learning and support in the design and implementation of STE(A)M education policies and in the development of open content. To complement the above, STEAMonEdu project will compile a competence framework for STE(A)M educators and will produce a training curriculum and course to support their professional development.
by N. Spyropoulou and A. Kameas, DAISSy Research Group - CTI
References
Bybee, R. W. (2013). The Case for STEM Education: Challenges and Opportunities. The Case for STEM Education: Challenges and Opportunities. National Science Teachers Association - NSTA Press. link
Spyropoulou, N. D., & Kameas, A. D. (2020). STEM Educator challenges and professional development needs: the educators' views. In IEEE Global Engineering Education Conference 2020 (p. in press).
STEM to STEAM: The "Arts" and its Importance in STEM Education | Makeblock. (n.d.). Retrieved April 13, 2020, from here