A data study carried out in 2021 with a series of tests in Pisa – within a program for assessing high school students skills in OECD countries – shows that one out of three students feels a situation of nervousness and discomfort when facing a math test. Anxiety can have a profound effect and could influence important life choices, such as the course of study and a professional career. Effects seem to be amplified in girls who have to deal with stereotypes often re-proposed by the parents themselves who see mathematics, and more generally science, as "male" subjects.
It is therefore important, from an early age, to train logical-mathematical thinking, so as not to suffer the fear of numbers.
The game aims to help overcome fears that affect even the most relevant choices of life.
"Maggie and the Seshat Treasure" is a game designed to help overcome these fears by offering primary school girls an alternative model with which to identify. The game's main character, "Maggie", was chosen in honour of Margherita Hack, the great female scientist and writer. She's a witty little girl who has to solve mathematical "riddles" in the treasure hunt "Seshat", named after the Egyptian goddess of calculation. The App, available for iOS and Android systems, was released in September 2020, enjoying considerable success and attracting the attention of many teachers who have understood its potential for teaching. Also, it was very appreciated by the Italian Ministry of Education which reported it on the portal dedicated to equal opportunities "noisiamopari" (in English, we are equal).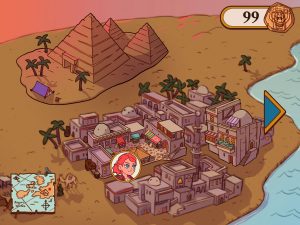 The game creators Enrica Ficai Veltroni and Caterina Primi are experts in, respectively, communication and advertising and associate professor of psychometrics at the University of Florence. Both of them are members of Italy's Soroptimist International, a network of managers and professionals committed to human rights and the advancement of the condition of women.
When realizing girls' anxiety towards mathematics weighs much more than their real skills, the two creators decided to design a fun tool to consolidate the students' knowledge and skills, but mainly to acquire a sense of know-how and greater confidence in one's own skills.
Taking inspiration from Margherita Hack, Maggie will carry out this dissemination task, to make the girls love science subjects, make them feel more confident about it and convince them that mathematics is an adventure absolutely worth undertaking!
By SGI