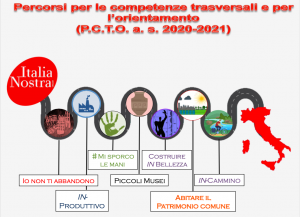 The Italian organizations Italia Nostra and our partner Stati Genrali dell'Innovazione (SGI) have started a collaboration in the implementation of Pathways for transversal skills and orientation for school in Italy.
The Association Italia Nostra implements educational initiatives for teachers and students working closely with schools in the development of National Operational Programmes. The objective is to design campaigns and projects aiming to promote education on active citizenship and to organize Pathways for Transversal Skills and Orientation in collaboration with school institutions.
In this sensitive and difficult moment for both students and school staff, the Association has decided to adapt its programmes to the new needs emerged by proposing to school institutions distance learning projects.
There is a will of being present and supportive in the school ecosystem to use this change to create a strong link between education, training and civil society for the realization of an "education to citizenship". Now more than ever this is understood as a structured observation of the reality and the identification of its fragilities to transform them into strength points.
The Pathways for Transversal Skills and Orientation proposed to the schools are designed to be aligned with the Ministry's guidelines for the Civic Education.
Growing up, learning, discovering and communicating what has been learned through the language of technology, intended as collective participation and fruition, is indeed a citizenship skills exercise.
The link and intersection of these initiatives is with Crowddreaming: Youth Co-Create Digital Culture (CDDC) , an Erasmus+ project, led by STEAMonEdu partner ALL DIGITAL and where Stati Genrali dell'Innovazione is also a partner along with three more organisations, including Daissy Reseach Group of Hellenic Open University. CDDC project aims to promote the use of new immersive technologies in education and to grow new European Citizens among youth. The activities' results are shared and disseminated on the platform Europa Square, which is one of the main outputs of the project.
By SGI