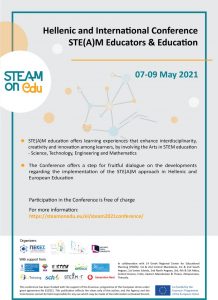 The Panhellenic and International Conference on "STE(A)M Educators & Education" will take place only online (via WebEx) from Friday, 7 May 2021 until Sunday, 9 May 2021 (Conference hours: 08:00-18:30 CET). Selected sessions will be broadcasted via YouTube, too.
You can find more information about the conference together with program updates and the links to join in the conference website: https://steamonedu.eu/el/steam2021conference/.
The Conference is held under the auspices of the Greek Ministry of Education and is co-organised by the Regional Centre for Educational Planning of Western Greece (PE.K.ES. D.E.), Computer Technology Institute and Press "Diophantus", (C.T.I.) and Hellenic Open University (H.O.U.).
The Conference is co-chaired by Dr. Achilleas Kameas, Professor of H.O.U. and Dr. Spyridon Papadakis, Organizational Coordinator of PEKES Western Greece. It is supported by the project "STEAMonEdu: Competence development of STE(A)M educators through online tools and communities" (https://steamonedu.eu/).
The Conference is also supported by the Regional Directorate of Education (PDE) of Western Greece, the international teacher community Scientix (http://www.scientix.eu/) and the projects "STEAM-IT" (http://steamit.eun.org/), "CHOICE" (https://www.euchoice.eu/) & "GEMIN" (https://gem-in.eu/en/), which are funded by the European Programme Erasmus+/KA3/Forward Looking Cooperation Projects in the fields of Education and Training, the Hellenic Education Society for S.T.E.M. (E3STEM) (http://e3stem.edu.gr/), the eTwinning Hellenic National Support Service (http://www.etwinning.gr), the Greek School Network (https://www.sch.gr/), as well as 14 Greek Regional Centers for Educational Planning (PEKES).
The Conference is addressed to scientists, teachers and educators of all levels that occupy themselves or are interested in getting occupied with STE(A)M education, researchers and post-graduate students, education executives, professional education and vocational training providers, as well as any person interested in becoming aware of the most up-to-date scientific developments, experience and results regarding the application of the STE(A)M educational approach.
The conference will take place in seven (7) parallel rooms extending over fifteen (15) zones. The programme contains 11 invited talks, 52 presentations of scientific papers, 50 STEAM education practices and 28 special sessions (workshops, panels, round tables etc.). Every day, one room will be fully dedicated to English speaking participants.
Participation to the Conference is free, but registration is required here: https://bit.ly/3rC95je. Join the more than 4.000 people from all 5 continents of the world who have already registered!
To communicate with the Conference organizers, please send an email to steam2021conference@gmail.com
Read the programme of the conference here.