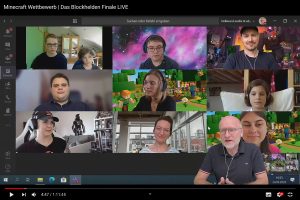 The lockdown caused by COVID-19 in spring 2020 in Germany posed big challenges for everyone, including the education sector, and brought many changes for children and youth: distance regulations, meeting only a few friends, hardly any sports, etc. In May and June 2020, STEAMonEdu partner organisation Helliwood media & education looked ahead with the world's first Minecraft Award Block Heroes and asked children and young people to transform the future with the help of Minecraft: Education Edition.
The task was to develop innovative, creative ideas that encourage and make our lives – with Coronavirus and in the future – easier and more enriching. A total of 141 children and young people aged 10-18 took part in the competition, organised between 25 May and 14 June 2020. Alone or in a team, the participants built their own Minecraft world and courageously created their future ideas with clever codes. However, it was not only about building with blocks, but also about programming agents. Agents are personal robots that only exist in the Minecraft: Education Edition and support the users in programming.
In the end, seven finalists managed to convince the jury with their ideas. For example, a game was built and programmed, in which you can create useful equipment, such as a protective mask, with small mini-games or tasks. In a submission by the youngest participant, a digital classroom was built, as well as parks, playgrounds, and buses, where the distance regulations can be observed.
On 24 June 2020, the Block Hero Final took place live with the finalists and the jury. You can check it out on YouTube