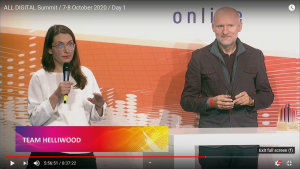 On 7 October 2020, our STEAMonEDU partner – the pan-European association ALL DIGITAL announced the winners of their annual ALL DIGITAL Awards. The Awards recognize individuals and organisations across Europe that enable citizens to transform and enrich their lives through the benefits and opportunities created by digital technologies.
The categories have been changing from year to year, and recently three of the recurring ones have been: Best Digital Changemaker, Best e-Facilitator, and Best Digital Resource. Read about all the finalists of ALL DIGITAL Awards 2020
Best Digital Resource Category
A digital resource is an online product for educational benefit, contributing to enhancing digital skills or providing an organisation with a useful tool to use with the customers or by customers directly. It should be free to use and be sustainable beyond its development (or funded) period. Only ALL DIGITAL member organisations can nominate the resource, because the network want to highlight those resources that their members are using in their work and find it useful. The resource can be developed by an ALL DIGITAL member organisation; by a consortium within a project where a member organisation is a partner; or by an external company, if the member organisation uses it routinely within their training programmes. Examples include, but are not limited to: a self-assessment tool, an educational game, a serious of instructional videos, an online training course or MOOC.
The three finalists in the 'Digital Resource' category in 2020 are (you can see the nomination entries by clicking the titles):
And the winner is ….
The winners were announce at the online Awards Ceremony on 7 October, which was organised at the ALL DIGITAL Summit 2020. Announcing the winner in the 'Best Digital Resource category, the jury member Austeja Trinkunaite, Secretary General of Secretary General of CEPIS, the Council of European Professional Informatics Societies,  noted that 'digital resources are essential in the digital training ecosystem. They provide the basis for building skills and competences for education and learning. And the need for high quality digital resources has become particularly prominent during the Covid-19 pandemic.'
… Turtle Coding Box by Helliwood!
With the Turtle Coding Box, ALL kids can learn how to code, regardless of social background, physical or mental abilities or disabilities. The resource provides:
the coding app TurtleCoder with integrated assistive technologies for learners with disabilities
the Turtle-Book as digital, interactive teaching resource with a complete curriculum for informatics basic education with 7 lesson plans, video-tutorials for teachers & students, task cards & working material
selected material with Braille, special videos with sign language
What is unique about the resources is that both the didactic approach and the technology are designed for inclusive learning. Teachers are able to teach coding with very diverse learners within one group at the same time. Children with and without disabilities, highly gifted ones or with learning difficulties – for the first time ALL students code together with just one resource and foster digital skills together. This enables future opportunities!
Interested what Turtle Coding Box is? Continue reading the nomination and check this post on our website
Receiving the Award, project manager Jutta Schneider said, "The Award is particularly important because our vision is that all children learn how to code regardless of disabilities or not. This is our big vision and our heart.And it will help us spread this vision in Europe and promote it further in schools and other organisations that want to teach kids to code."  Thomas Schmidt, CEO of Helliwood, added that in this work parents are also very important. "Children can learn coding at school, but then they can come home and code a little bit more. They can learn together with their parents."
Watch the Awards Ceremony starting at 05:48:35, intro video about Turtle Coding Box – at 05:53:35